Chocolocs has left a new comment on your post "
I Asked for Subtle, I Got...
":

I'm getting BlaqKofi withdrawal symptions!! I've checked your blog every day since the 4th July anticipating the fabulous pictures with your highlights and your funky new glasses. Evidently you have a life outside of SisterLocks blogging! (Maybe I should get one!LOL)
Anonymous has left a new comment on your post "
I Asked for Subtle, I Got...
":

Chocolocs you have said exactly what I have been doing and thinking are we sad??

I love y'all - I swear I do! I have been busy coordinating the move of our entire college to a brand new facility. A major undertaking and I've busted my butt. But BlaqKofi represented big time!

The dynamics of the situation were interesting. I'm the only woman of color in my position. Most of the moving crew was Black and there was a lead brother responsible for our new furniture installation. They all gave me the utmost respect and had my back. I could sense their pride in me and even see it in their eyes. It was awesome and gave me such a feeling of accomplishment. So that's what I've been up to. I still have about another two weeks of hectic stress.
But What about da locs?

Oh yeah, my highlighted Sisterlocks - As the color tones down, I'm beginning to feel more and more comfortable. My camera tends to exaggerate the color some, but everyone, including my sons love it.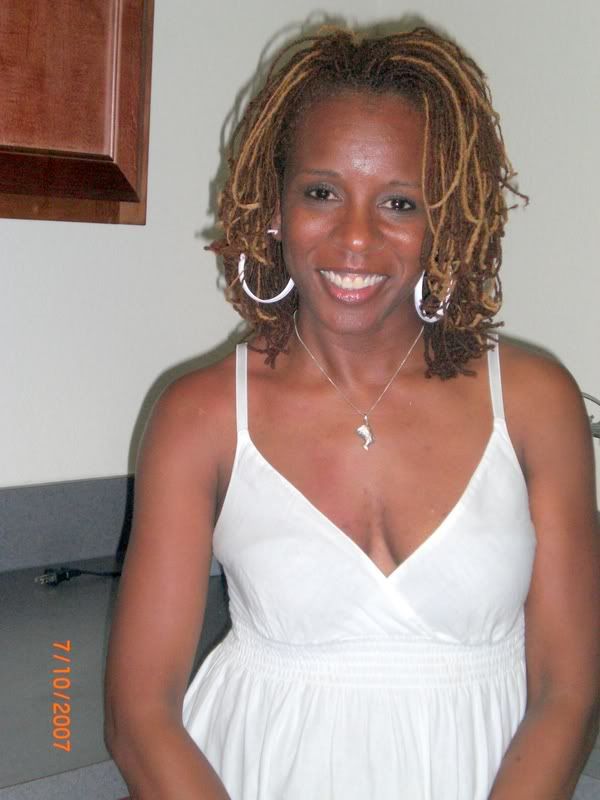 Lady P and I met for a quick snack this past week. If you'll recall she was my first Blaqkofi siting.

Most of the time, I simply wear my locks like this with my B-Tie, nothing holds my locks as securely and comfortably.
I wanted to write something profound, but simply don't have the time nor the energy. I'm exhausted and it's Sunday evening! Thanks everyone for visiting. I apologize for not having time to visit other blogs or even email my friends. Brunsli - I owe you an email.
Thanks to everyone who wrote with encouragement about my highlights and even those who wrote with constructive feedback. Much love to
Sister-In-Locks
who even called to lift a sistuh! Now that's Sisterlock sisterhood!
I don't have much time tonight, so I'll leave you with this. More updates to come on Mom's first wash and retightening. (Her locks are doing great!). Malcolm - he's four months now. And who knows...?
That lead brother over the office furniture crew - was fiiinnnneee! I couldn't help but take down my locks and let them flow before he left. There are some furniture items on back order that will need to be delivered soon, hhhhmmmm......
All photos taken by X, Except Lady P & Me - Thank you!