I went eight weeks between retightenings for the first time ever. It wasn't intentional - life just got hectic. I will do everything possible not to let that happen again.
Another first - it took Gigi 3 hours to retightened my hair. My appointment has never lasted more than 2 hours. Another motivator to never wait that long again.
On the positive tip, my head feels wonderful and I swear it's as if I gained 2 inches of growth. I was feelin' kinda cute and sexy tonight so I took some photos.
I know that I'm out of sequence - cause I owe you Part II of
"What's Blaq Been Up To." It's coming - a promise...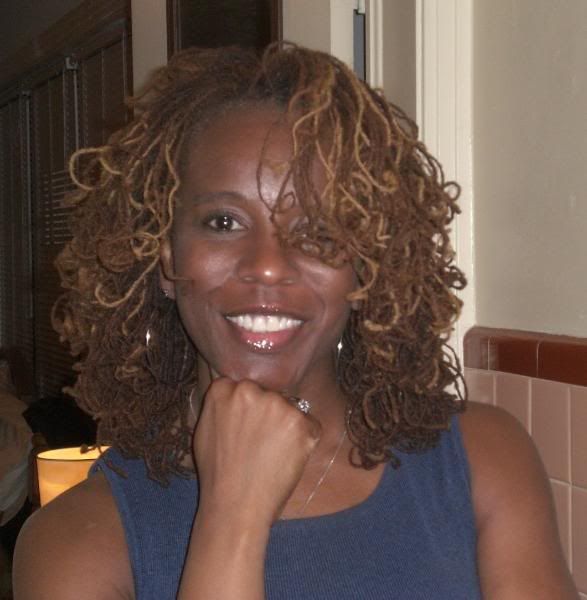 Not much new to report on my lock regimen. Same ole, same ole. My Sisterlocks remain healthy and strong. And, of course, I'm LOVIN' them.
I'm at a stage now where I don'tworry about them.
The style above is a week old bendable roller set. I washed.
Let partially air dry then set with Lottabody.
I sit under the hair dryer for about 3o minutes.
(Especially if I wash in the evenings.)
This ensures my locks fully dry by the next morning and provides an even longer lasting curl.
I pull up at night in a pony (I use my B-Tie. I use that thing
everyday and I only have one. I need to order more.)
In the mornings I cover during my shower,
get out, shake it like one of those
tv models, run my fingers through it and off I go!
My curls even last through my retightening yesterday.
Anyone reading this who isn't locked -
why wouldn't you want this freedom?
Come over to the natural side - afterall it's where you belong.
Peace & blessings, Blaq